Yung is a SWRP character in Second Life.
Yung is a Yuuzhan Vong 12-years kid who lives on Zonama Sekot. He is a good kid, but also he has a lot to learn. It's common see him with his arrow and his bow walking trough Zonama Sekot.
Yung is a timid boy, who took a wrong way to see the things watching Devlin Thorr. Now he knows Devlin is not a good example of beeing with others socialy and hears now what the High Priest has to say. His first enconter with Zonama people wasn't the best. He was just playing with his bow, underwater, and he shots on a visitor twice and people get angry, specially Flint Mokeev.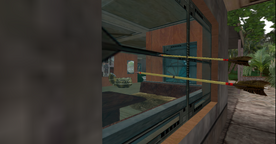 == Walking trough the world... == Yung walked many days arround Zonama after he told High Priest he wanted the same path as him. People were liking him, however he needed some time alone. Some weeks after he found Devlin, who invited him to make some trips, and he accepted; to know the Galaxy.