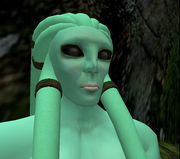 After the Togruta avatar, which I'm still looking a character for me to play her, I've build a Nautolan avatar.
Nautolans are an aquatic species of Star Wars, they have various skin colour, mine are green.
The intent is to make a former military healer, disenchanted from the army, still having some medical skills, but with a military experience, which can appear rude or cynical for civilians. One reason of this character is to give the other characters a more unplesant feeling when wounded, instead of being pampered by cute nurses.
How maybe people will he or she help until an impatient patient kills her for her attitude? Who knows...