Following the departure of the Dark Lords of the Sith from Ruusan, the reporters Daana Kira and Rakiko Lowtide visited the allies of the Sith Empire to know the reasons and the possible outcome of this withdrawal. The jumped to Rhelg, which they knew to have send troop against Ruusan and interviewed the Taral'ari for the Holonet.
Transcript
[
]
Daana Kira continues her way up, thinking there would have a nice sight from there.
Calithlin Torok raises a brow at the Togruta, eyeing her from his lavish throne.
Daana Kira climps up the up the upper stairs at stop seeing it's a throne room, she recall of the protocol she has seen in a holonet series and curtsies, when she stands back she says a confused "hello"
Darth Umbra steps up behind the reporter, and nods passing, moving toward the throne quietly, she stands next to the Taral'ari calmly, placing a hand against his throne
Calithlin Torok leans his head over to the side, taking another look at the woman, "Hello to you as well... what brings you to my Contemplation Chambers in the Vault of Kressh?"
Calithlin Torok raises his brows as another visitor arrives, "Ah, another one..."
Calithlin Torok strokes his beard slowly, "A Pantoran, might I presume?"
Daana Kira glimpses at the decoration aside but returns her sight at the man on the throne "I'm Daana, from the galactic news", she stretches her hand to the newcomer "and here is Rakiko, we're doing a reportage on the wars which are spreading on the galaxy"
Rakiko Lowtide walks up quietly placeing a recording device on his belt "Greetings and yes I'm pantoran" and smiles.
Calithlin Torok raises a finger casually, "Aha! I thought I recognized you... I appreciate your work done in many of your reports.. most informative indeed. Now you said you wished to speak to me of the wars ravaging about the galaxy?"
Daana Kira grins, happy the sith recognized her, she does few steps forward for not having to talk loudly and asks "Yes, we've been told you send troops to suppose the Sith attack on Ruusan, could you explain us the reason of your involvment.. but fist could you tell us how we shall call you?"
Darth Umbra "my Lord, while this is a most glorious moment for you and I am empathic of your feelings on this, and I shall let you finish in but a moment if you allow my interruption, might I remark that the Sacking of Ossus was one of the greatest of Sith Invasions of 'ALL TIME'!" she pauses and repeats "of All Time"
Darth Umbra shrugs and then steps away from the throne
Rakiko Lowtide steps forwards as well readying the holocam at his side.
Daana Kira raises a brow, she wasn't yet galactic reporter at the Ossus invasion and only followed it at the holonet on Shili
Calithlin Torok raises a brow for a moment at Umbra, then shakes his head a little and returning attention to the reporters, "Anyhow, you may refer to me as 'Viceroy and Executor of the Sith Empire', Magistrate of the Academy, or Taral'ari--my more common moniker."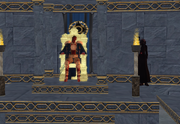 Daana Kira bows her head and greets again "I'm glad to be able to talk with you, Taral'ari", then she asks "Could you tell me what's the reason of the involvement of your troops on Ruusan?"
Rakiko Lowtide chooses the short of the three and bows "Pleasure to meet you Taral'ari".
Calithlin Torok continues, "On the business of Ruusan... as a leading member of the Sith Empire I am obligated to aid my fellow Imperial counterparts as their aid has been granted to me on multiple occasions. As for the most recent assault... in all honesty I was not fully aware of the circumstances behind the assualt, though I trust the judgement of my fellow Sith in arms."
Daana Kira nods "So, it's more the respect of an alliance, is it? Do you have a grief against the Jedi themselves, especially those on Ruusan?"
Rakiko Lowtide listens and brings his hand-holocam to his hand "And do you mind your image on a holonet feed?"
Calithlin Torok threads his fingers together, "Not in particular, no. Normally my opinions on the Jedi rest on individual cases. Like yourselves Jedi often have frequented my territories given proper attitudes presented along with them. I have even lent artifacts and replicae to the Ruusanian museum of art and history. However, we have had our squabbles in the past. They had attacked our previous homes frequently while they were under alternative leadership. But as you have suggested earlier, this last event in particular was to hold true to an alliance."
Calithlin Torok pauses a moment, "Oh and yes, you may record my image is desireable. Normally we take up arms against only those who have themselves acted against us; either indirectly, or directly against this planet or one of our colony-worlds such as Polis Massa."
Rakiko Lowtide begins the recording, zooming in on Viceroy as he speaks.
Daana Kira looks at the pattern on the ground and tries idly to stand in the middle. At the comment of the artifacts, she asks "Yes, our informant told your main activity was archaeology and knowledge, he told also you had argument with other sith faction wanting to grab your discoveries. Could you tell me more about them?"
Calithlin Torok presses his fingers together and thinks for a moment. "other Sith faction wanting to grab my discoveries..." he parrots, rolling the question over. "It has been quite some time since any order has attempted to take our information from us unwillingly; it is moreso our policy nowadays to spread as much of our knowledge as possible to those respectful enough to sway their way of thinking in our favor, you see... More common there are arguments over the application of such knowledge between us and other orders, rather than the actual knowledge itself."
Rakiko Lowtide nods and pans his camera around, being sure to capure everthing.
Calithlin Torok holds out a hand, "So if I may rephrase the question--Miss Kira, if I recall?--we do indeed have disagreements with Sith that misuse information and abilities sacred to the Sith teachings of old."
Daana Kira rubs her head tail "Maybe well we were wrongly informed and we were right to ask you directly. What usage do you design usage for, and how could it bring an oposition to the to other Sith, or any other movement, acutally", she nods at her name "yes Kira, Daana Kira"
Rakiko Lowtide looks around the room for any artifact to catch a glimpse of, but not seeing any that stanout from the art he refocuses back on the viceroy.
Calithlin Torok rubs the tips of his left hand's claws together slowly, examaning them. "Well it is all quite complicated, any conflict within a religion over a hundred-thousand years old naturally would be... To put it as frankly as I can manage, I would say that our goal here wold be for personal enlightenment and betterment... expansion of one's knowledge of themselves, the Force, as well as the teachings and traditions of the most ancient of Sith. We draw our ideals from those Sith that were isolated within their own Empire, in their own region of space, where they were allowed to perfect their teachings and philosophies amungst themselves without exterior infuence. We focus heavily on self-reliance here, you see... seclusion and introversion. Competition here is far less destructive than many other Sith orders; we build here. Expand ourselves here. We create from what was nothing, while other such orders often simply take and take until nothing is left around them."
Rakiko Lowtide looks around the throne room holding his camera down a bit now "Well it certainly looks like you've been busy bulding here".
Calithlin Torok: "Other orders see us as pacifistic, weak. But we have our fare share of battles, but only with what matters... aside from aiding our extremely supportful allies, our battles are rarely publicized. We move unseen where it is necessary. When we move it is against those who seek to hinder our cause, and that cause is to spread our teachings. The end goal of this academy--this soverign nation-system--is to spread the teachings of the Sith from every corner of the galaxy. But we let our students come to us, and through example and unseen suggestion we grow. That is what sets us apart, and that is why those orders who do not join along side us /envy/ us instead."
Rakiko Lowtide: The ceiling is really quite impressive.
Darth Umbra "this is also, " she says, interjecting "if I may, the reason that you see this great chamber hold such visual splendor, indeed, the refinement of the Sith's Golden Age is brought alive here, because of these philosophies and ideals and the way in which they are executed. see how it is so much the opposite of the desolate, dreary wastes of Byss, Dromuund Kass, and Vjun, Rhelg, by contrast, is a veritiable gilded hall of wonders, while these places indeed may hold wise and powerful Sith. the evidence of the Wisdom of the Way set forth for us by the Taral'ari here is everwhere around us, apparent,in ways both subtle, and obvious to all who behold it. truly."
Calithlin Torok looks up and around the room, holding up his palms to the ceiling, "Much of what remains is but restoration work. I cannot take credit for the masterwork of the thousands of craftsmen who died to see this basin filled with such riches of architechture. I am an archaeologist at heart... a scholor too, but my work is to restore the old. What new I create is inspired from those ancients that brought with them the greatest teachings and art."
Rakiko Lowtide looks around making sure he gets a zoomed shot of the most impressive piece of architechture "It must have taken forever to build, hopefully it didn't take as long to restore"
Calithlin Torok nods solemnly, "This was once the home of my most favored, revered Dark Lord of the past--Ludo Kressh. I truly believe that would he have lived on to see his version of the Empire continue the galaxy would be a far different place... one where the Sith of old till ruled... where the Sith were not regarded as a hypocritical gang of occultists who occasionally find great power... but as philosophers and scholors... men of the sciences, social, etherial, and natural. Where we would be regarded as heros, and that every planet would see such splendor as that was once here and lives on through my followers..."
Calithlin Torok concedes with a gesture, "Truly I cannot say... we are still restoring some of the more delicate records from the archives far below. While it did take considerable time -- nearly half a decade to restore -- it was surely worth every effort."
Daana Kira nods "So... you're wanting to profess the Sith philosophy across the galaxy, by peaceful means. Why do you believe this would be profitable for the galaxy?", she pause and dare to add "Sith are not known as the most peaceful, many citizen may distrust them, do you think you can regain the trust of the people?". She looks at the roof as the Talar'ri talk about it. She believe it's a nice roof, but doesn't worth people die for it, which she doesn't say, just nodding
Rakiko Lowtide looks at the beauty of the hall in awe for a moment then turns back with a more serious look to see the response to Daana's question.
Daana Kira notices the big blue iris formed by the floor just above her head and asks herself if being in the middle of the room was a wise option, she does a step aside, just in case.
Calithlin Torok leans back in his throne and presses his fingers together once more. "More than profitable... I emphatically believe that the spirits of every individual in the entire galaxy is essentially at risk." He sits forward a little once more, "though I could go on about astral and esoterical subjects and take the time to elaborate upon them for days... suffice to say that the Jedi /propoganda/ of becoming 'one with the Force' is by all definitions allowing the destruction of one's self. Permanantly. Forever. Existance ends." He lets that sit in for a moment. "We can offer another route... a route that allows one to transcend a tormenting afterlife trapped in the whisps of the Netherworld of the Force, until said spirit slowly disintigrates away into the winds that encompass the Force itself... *feeding* the powers of Force users that yet live. But conflict does not end there... that is why I require powerful students versed in the arts known by the Ancient sith, so we may fight along them and await that which is held for us in the End..." He pauses for a moment, composing himself once more to continue on to the second part of the question.
Daana Kira moiseties her lips wanting to ask another question, but closes her mouth as she sees the Sith is still willing to talk
Calithlin Torok: "Sith are not known to be peaceful because of the ensuing events from the actions of one foolish, malignant, narow-minded Sith Lord of old... Naga Sadow, whom single-handedly destroyed the Sith Empire by leading it unknowingly and for no reason into the Hyperspace War... the Republic retaliated, as any would expect them to, and wiped out all Sith civilization. All of it. Save a few Sith Lords and the hidden planet of Tund, nearly all of the trillions of 'Red Sith' were erradicated across the remnants of the Sith empire ina methodical Genocide led by the frightful Jedi whom feared another attack. But they are not the true blame.... it is Naga Sadow's doing... and of course it was he and he alone who would go on to theach the non-'Red Sith' generations that followed after him... Such as Freedon Nadd, if yo uare familiar. Almost all human Sith Lords you see are somehow linked to naga Sadow in one way or another. His teachings poisoned the sith irreverseably... Sith after him and Freedon Nadd learned of killing their own masters for their position... it was no longer about being a Sith, but power... pointless, useless power. Nothing of the afterlife was ever mentioned hence... but it was avoided. Avoided like the plague. Sith sought immortality to avoid it--but not to spread the teachings of the sith, but to accumulate useless power. Power for power's sake. They sullied the meaning of Sith until it meant nothing more than Force-wielding tyrants."
Rakiko Lowtide captures a closeup of the Siths's face trying to frame him against the wall to convey the awe of the current scene.
Calithlin Torok exhaled harsly, clenching his fists and halming himself... "And that is why we are perceived as we are... but I have--we have--overcome that, to a degree. Despite Imperial and the New*est* New Republic's propaganda, I was elected Supreme Chancellor of the Galaxy twice some years ago, and it was the most prosperous, peaceful time the galaxy had seen in ages. Until, ironically, a Jedi with ambitions to create another Empire foiled it, tearing apart the Senate and evictign us of our place of meeting. In the distress the galaxy fragmented into what it is now."
Rakiko Lowtide is taken back a bit by the man's passion but recomposes himself and calmly returns to the work at hand.
Calithlin Torok breathes out once more, slower this time. He holds his palms facing the reporters, "Forgive me... my... outburst is finished."
Rakiko Lowtide shakes his head "No it's good, this is what the people need to know. the history and the emotion. Most only know what the Jedi say".
Daana Kira nods many time, trying to recall the names of the people which are talked about and replace them in what she knows in the Galactic history. She never was an expert, and only had an advanced school level. As he has finished to talk, she tries to recall her original question and taps her head tail with her fingetip when she gets it back "You want to spread the sith thinking but does it just concern those which are known as force Sensitive? and how if not only"
Daana Kira thinks at few other questions which are bumping in her head and tries so order them, still a bit disturbed by the big eye above
Calithlin Torok wags his finger, remorseful, "It is indeed a travesty. While I do not blame them, the whole truth as it were is often not displayed... even the Jedi often do not know that their great library of Ossus was largely based upon the contents of a Sith holocro naquired during the Great Hyperspace War." he turns his attention back to the Togruta. "That is one issue that does not always transcend well from ancient Sith to average philosophy. You see, members of the Sith Species--or Red Sith, as I mentioned earlier--were all born naturally Force-sensative, which is what allowed them to defeat their first would-beinvaders, the Rakata and their so-called 'Infinite Empire,' largely because the Rakatan technology was based around or powered in some way by the Force. But I digress, the Sith never had to deal much with the issue in their more ancient form because there were no non-Force sensatives to be had. One way or another, however, once the Sith Empire expanded into areas of the galaxy more populated by other species, these were incorperated into the Empire, and through the use of Sith Alchemy, these satelite spcies were able to interbreed with the normally impossible genetics of the Sith species. Thus creating future generations from those slave races at the time into force-sensative ones with traits of both their Sith and other parents. However, that is beating around the point--our goal would certinly not be to impregnate all species with Sith geneology--although it would be easier. No, all spentient beings have spirits that travel to the netherworld, and although there is no proof of them returning, it is far more likely that those non-sensative that follow our footsteps under our leadership have at least a fighting chance. Were we, through exploration and study, to find this not the case... there are means of artificially inducing force-sensativity, however rare, which prooves hope is there." He taps his fingers seeing if he forgot anything, "Oh, and of course we have members that are not sensative in the ways of the Force that acheive high rank amung us; many of our engineers, artisans, and generals are not skilled in our more... mystic arts. Merit is what drives advancement, not potential alone."
Daana Kira nods, recalling of this part of history, which was made of wars and suffering and slavery, she wonders which side where right, thinking many just none of them
Rakiko Lowtide looks up at the eye that Daana was looking at, taking in the whole of it now, he feels quite small as he smiles to himself then returns his attention back to the Sith, interested on his view of non-force inhabitants.
Daana Kira gasps hearing at the program, she asks another question to get more details and to confirm what she heart "You mean.. you're creating hybrids with the Sith? how is it possible? We'll have Sith-Hutt or Sith-Jawa?" she forget voluntary to name "Sith-Trogruta" but she thought it first.
Darth Umbra isn't entirely convinced that the jawas aren't in some way part sith from the glowing yellow eyes and cloaks.
Calithlin Torok shakes his hands "Oh, no. That was the practice of the ancient Sith Empire. With their massive size it was just inevitable that multiple species would be... taken by eachother, and every relationship was seen to require a... productive relationship, so the interberriding--via Sith Alchemy, mind you, not by normal means--was performed. We of this academy however, allow the transformation through severe genetic manipulation, Alchemy, and Sith Sorcery to create near-pure representations of the Sith Species of old. The process is neither perfect or painless, mind you, but we attempt to represent the Sith of old as best we can."
Daana Kira pouts, unsure of the interest for the masses to become a Sith "So... at the end, we'll be in a galaxy filled by Sith or other species would still have their places?"
Rakiko Lowtide lowers his camera to listen carefully to this question.
Calithlin Torok holds his hands up, carefully chosing his words, "We only /offer/ the transforamtion for those who wish to strip theselves of their former identities. We have no qualms with others remaining as their birthed species; as we all may as well be the same in spirit. Just look at Umbra here next to me. I have no qualms with her remaining Twi'lek, although as I believe she has chosen to take the same path as I have."
Darth Umbra nods quietly, in acknowledgement as she stands beside the throne of gold
Rakiko Lowtide looks over to the lady then back to the viceroy "It's very interesting, what does it take to transform someone to the traits of this ancient species like yourself?"
Daana Kira stares at the dark silhouette, she hadn't noticed she was a twi'lek but now sees the head tails. She nods conforted for her owns and ask "Well, this is the program for the people individualy. Do you have a political program as well? Will the new Sith agree with each other for make a better galaxy?"
Calithlin Torok raises his brows and opens his mouth, but he stops himself before he gets too into the details. "Well... it involves painfully bombarding the subject's entire body with particles capable of knocking away strands of hereditary material, layer by layer, organ by organ, ensuring through the whole process everything still 'works'. It is a daunting process, and can only be acheived by one of multiple Force users with backgrounds in Alchemy, Sorcery, Force manipulation, Anatomy, biology... genetics... it's quite complicated--and unbearable painful, as you could imagine every nervous cell in your body being bombarded by subatomic particles would be..." He turns to respond to Kira's qustion ocne more.
Calithlin Torok: "We have a very strict policy of unity and mutual respect here. Under my banner or any of my replacements we follow our cause mutually, but in our own ways. As you can imagine this is not Rhelg's only base of operations; we have much of our industrial locales sitiated elsewhere on the planet, as well as just over a thousand smaller townships and compounds set in intervals around the planet. A few growing cities as well, but surely no Coronet quite yet--we are a desert planet no matter what we do. I'd say if I can keep this planet working as it is, as well as my experiance operating our colony worlds of Polis Massa and our colonies on Kashyyyk, as well as my experiance when I was Supreme Chancellor... I don't thin there's much politically that we can't tackle. My people are with me, it is only a question if the rest of the galaxy is willing to open itself to us once more as we grow, as they have before."
Daana Kira crosses her arms rubing her elbows hearing the detail of the process, she tries to not make a face.
Daana Kira wags her hand, her arms still crossed "but would would promote a democratic system like at the republic you were leading or a more directed one?" she pauses and adds "and keep the freedom of the press?"
Rakiko Lowtide resumes his filming, but tugs at his shirt as he's reminded that they are on a desert planet.
Calithlin Torok leans back in his seat, "It is difficult to say, with all that so far into the future... but what I imagine would be... sort of an amalgamation of what we see in the Republic and the ancient Sith Empire's political systems... Imagine, if you will, regional governors of secors elected by the people, but with full tenyer until a certain age at which an individual may be decidedly too far progressed or mentally unsound. Those governors--of small systems or singular planetary bodies--would themselves elect sector governors, which would form a closely-knitt group of advisors much like what we saw in the Sith Empire, who themselves would elect a leader amungst themselves. That leader would himself hold tenyer, but would be required to step down should his position be challenged or impeached, just as everyone down the line from him could also be. So long as the people chose wisesly, their representatives would elect those regional and planetary governors that best suited them, and those regional governors would elect the sector governors that served the interests of the people the planetary governors prepresent, and so on and so forth on up to the top of the pyramid of sorts." Thinking back on the question he grins a litle, "And of course a free press would be paramount... individualism and freedom is what our teachings are all about, if interpreted properly."
Rakiko Lowtide listens to the whole idea as this is the firsst practical idea someone has put for so far while be interviewed "I see."
Calithlin Torok: "And free press would be an important check for the government, as well as to keep the people informed and the officials honest."
Rakiko Lowtide nods in complete agreement.
Daana Kira nods slowy, better knowing the politic than the history "So, people would have a word, even little in all of this. The power would rather come from the top to the bottom, or from the bottom from the top? And will the new Sith have a special role in this schema?"
Calithlin Torok gestrues with a hand, "Just to be clear... new Sith as in those transformed, or those with Force-sensativity?"
Daana Kira bites her lips and nods "Yes, sorry if my words were innacurate"
Rakiko Lowtide also adds to Daana's question about the structure "What do you think are the biggest obstacles for the galaxy to accept your view?"
Daana Kira wags her hand trying a clearer form "Will the Sith be viewed as a political elite in the society you're promoting?"
Calithlin Torok: "Essentially, those in power would be placed there by the ones on the bottom, but the actions of the government would come from the top down. A decisive government with the preferences of the people they represent in mind, ever wary of impeachement. The best of both worlds. As for the Sith and newly converted Sith--those who practice the Force either through training or genetics, anyhow. An member of a Sith system of government is usually considered a Sith, but that's all semantics--those Sith, unable to persue political ventures if they were Jedi, would be encouraged to seek whatever political action or position they choose. It is a truth--regrettable or no--that people prefer Force-sensative members of political systems. I have seen it amung budding pre-space farring nations, I have seen it in nearly all incarnations of the Republic Senate, and I see it within the Empire. People look up to the Force sensative for their supernatural perceptive abilities. While I would not hope them promoted any mroe than another, I must be honest in saying that it, as well as in *any* modern system of government, would be more likely for Force-users to become elected. That, however, does not rule out any others. Political acumen, skill, and sincerity will be what the people vote for given a few generations to prove the point through their own elections. I simply will not lie to you in saying that it wont happen; because it already does in every major galactic superpower. Demacratic or no."
Daana Kira looks up at the roof, trying to recall if the current chancellor is Force sensitive or isn't, she doesn't know and will check in her station archive next time. Echoing Rakiko's question she asks "All right, which obstacle are preventing you know to start this governement, outside of the world you directly control? And a side, question how will the Sith Empire, rules by his majesty Validus be afftected? The Emperor would be elected himself?"
Rakiko Lowtide: Yes it should be hard to convince those already poised to take power.
Daana Kira wonders to herself if he'll reply a "yes" if she could title her article 'To an Elected Sith Emperor?'
Calithlin Torok: "Well, this is all a fantasy really... a government that would exist far after the Sith managed to either control the Galaxy, or expand its influence slowly enough to convince the larger galaxy to follow our ways. Two approaches to the same end, as it were. As for my method... what we are currently emploring from this world, is a slow approach. Taking in the forlorn, curious, or otherwise yearning individuals and training them to be the leaders of tomorrow, while making alliances and setting up colonies across the stars. As I see it, we are entirely on track... As for the Empire, they are the secondary plan, as it were. A way to quickly introduce new generations to the Sith, and supposing their efforts succeed, we transform the empire from being hard-and-fast as its current incarnation ahs been, to a system moreso like what I have mentioned before. It is not idea, but it is practical. But yes, the end result would encompass a situation where the head of the government, whatever you wish to call it, would be elected."
Rakiko Lowtide looks at the man wondering how old he is and where he's gotten his patience, but at the moment doesn't say anythings, still wrapping his mind around whats been told and focusing his attention on recording it.
Calithlin Torok looks to Rill, waving a hand to her and indicating the reording device being used by the Pantoran.
Daana Kira taps her elbow with her forefinger, counting the number of force sensitive leaders she's aware of. After the sith finished to answer she asks "So your plan aren't in opposition even if very different? The Jedi complaint the Sith way is barbaric but they certainly refer to the violent way, do you think yours can convert them more easily?" saying so, she notices the red skinned lady entering and nods at her as a greeting. She wonders if she wouldn't have herself worn a more formal dress for this meeting and readjusts her own dress after this feeling
Darth Umbra eyes gaze over Rill a moment before returning to the toruta and watching her, she takes a breathing silently after dipping her head in a short nod to her
Calithlin Torok nods adamantly, "Entirely. Many of our students have been former Jedi themselves. Myself included. We have a much higher rate of conversion in comparison to other orders I believe."
Rilliana Zamani clasps her hands together and lowers them infront of her waist, bowing to the prefect and the Taral'ari.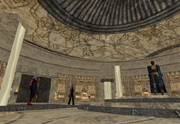 Daana Kira stands straight and asks "Another question, could you confide us your next action for the promotion of this plan? do you think it could be made in the current generation?"
Rakiko Lowtide turns his holocam towards the new lady and lowers for a momnet to great her "Greetings".
Calithlin Torok leans back considerably in his heat, almost to the point of slouching. "Next plan of action... well, some time earlier we had some success with some aggressive recruitent policies; sending out agents into heavily populated areas to spin tales of our goals and convince the masses to follow them and join our movement. That ended quickly once we had enough students to bare--it takes very intimate training to produce the best students with the most clear grasp of our beleifs. Clasroom situations do not work, so we must gradually, but exponentialy, train generation after generation to a point where our masters and teacers are at an equal proportion against our students constantly; perhaps ten to one at most. If all goes well, perhaps we could encourage a more... commercial advertising scheme initiated. Something to fill the ranks quickly and swell our numbers. Such could produce enough to start another colony movement or two. One can never quite tell, but we've nowhere to grow but up."
Rilliana Zamani smiles sweetly as she looks up from her nails
Rakiko Lowtide smiles calmly and turn the holocam to pan the entire room again before resting back on the viceroy again.
Daana Kira "I've told of this plan, it's actually one of the reason we're here today... and not another day as we'll have liked to ask you questions."
The Visit
[
]
Daana Kira pauses and unfolds her right arms, then asks "I have a last request, we'll like to visit your artifact room, and maybe the chamber of transformations, if the access aren't restricted... We could come along with a guard or an officer of yours if you want."
Rakiko Lowtide lowers his camera strapping it back to his leg after shutting off the feed for the moment as he looks hopefull to Daana's request.
Calithlin Torok peers at the reporter for a moment, guaging her intentions. He looks to Rill and Umbra, "What are your thoughts, you two? Just about all of the more dangerous artifacts and most of the texts under study are locked up anyhow. Should I allow them?"
Rilliana Zamani turns "My lord it would seem a rather moot point what with all of our artifacts locked away."
Rakiko Lowtide looks from one lady to the next as he waits for an answer and interjects "The more impressive the artificat the more our viewers would like to see it, no matter its purpose".
Darth Umbra sighs deeply, and tilts her head to the side "I'd prefer them not to see the Forge or Transformation room itself, for matters of sterility and keeping it secure. however, a few of the first rooms I see no trouble in"
Daana Kira eyes at Rakiko as he says his compliment and holds a chuckle
Calithlin Torok looks to Umbra, "Very well. Do you wissh to accompany them, should we both, or perhaps leave them to their own devices?"
Calithlin Torok pushes up from his seat, "Now that I think on it, I had best accompany them t snsure they do not take footage of anything in particular that must not be shown to an outside audiance..."
Darth Umbra "I shall accompany then, my Lord, or would you prefer me to remain here in case someone else comes?"
Daana Kira folds her arms a moves her hands in a circular motion "We're not wanting to disturb you"
Calithlin Torok shakes his legs, "I don't walk about the Vault nearly as mych as I ought to... please, join me. It may prove educational for all of us.
Darth Umbra nods and steps of the dais "excellent, we shall then go"
Calithlin Torok appreaches, shaking a hand, "Don't worry yourself. I haven't seen activity past my meditations in some time."
Calithlin Torok beckons them as he passes, towering over them.
Rakiko Lowtide beam, happy to see something not many have seen.
Daana Kira leaves the sith to pass and prepare to follow them
Calithlin Torok looks back for a moment, "Now, did you want as full a tour as I could give on the way down? Or simply straight to the bottom?"
Rakiko Lowtide says in a questioning tone "You could give us the highlights as we head straight down?"
Daana Kira looks at Rakiko for advice "what do you think? has your holocam still enough powercell?"
Rakiko Lowtide pulls out his holocam and changes the powercell "Yes I have a couple left".
Rakiko Lowtide raises it to pan this room in.
Daana Kira point to the horn like symbol in the middle of the room "What it that sign? we have seen it in the middle of the arena also?"
Calithlin Torok extends a finger to the podium and some of the murals along the walls, "As you can obviously deduce that is a podium of sorts used for lectures and the like. The symbols atop the sculpture are that of the Kressh line. A house of great influene during and before the Great Hyperspace War, belonging to the owners of this temple and that of the Dark Lord Ludo Kressh, rest his spirit."
Rakiko Lowtide zooms in on the symbol and on the reliefs on the wall.
Calithlin Torok: "There were once a large number more murals, but we were sadly unable to restore them."
Rakiko Lowtide: These are quite impressive.
Daana Kira brings her arm back to her hip and asks "This Dark Lord, is like your mentor, isn't he?"
Calithlin Torok nods, "That he is, at least in essence. My very frame and dress are a testament to him."
Daana Kira looks at the dress from down to up, when she arrives at the Sith face she asks "He has something the other Sith didn't have?"
Calithlin Torok shakes his head, "No, he was quite as purebred as they come. Some of the murals are a slight bit exaggerated in their expressions."
Daana Kira checks at the murals, not expecting this answer, she asks again "I meant, why is he your mentor and not another Sith... some were famous for being very powerful, for instance"
Calithlin Torok: "Well, he was a very conservative Sith and Council member to the recently deceased Dark Lord. He oversaw that traditions be kept and that the Empire be led into continued prosperity. He was a protector of sorts, ensuring that the work of his Dark Lord, Marka Ragnos, remain; that the Golden Age of the Sith would last indefinately. I look up to him for his defense of his people. He saught only to defend, not to attack needlessly. The Empire was nearing a practical utopian state... aside from some of the infighting going on, but at the time it was minimal. He showed the greatest promise for any Dark Lord... preistly status, persuasion... he could have led the Empire to greater things, but his future was denied. And it is that future which I mourn. Not entirely for the man, but the promise he held with him, and that promise which the Empire believed behind him. The people broke away from Naga Sadow and his military campaign... they saw reason after Sadow's lies were exposed... the military was gone fighting a war none of the Sith had any stake in, and the people saw that. They turned to Ludo Kressh to deliver them from Naga Sadow's dreams of domination and foolishness, to retain their Empire's glowing status as a gem in a darkening galaxy... but he was denied..."
Calithlin Torok: "But I digres... shall we continue?"
Rakiko Lowtide nods, still impressed by the man's passion.
Daana Kira crosses her arms listening attentively "I see, the wars has many effects, often negative, which can't all be perceived at the first glance"
Rakiko Lowtide prepairs to follow steadying his holocam.
Calithlin Torok nods, "Let us continue."
Rakiko Lowtide looks at the statuete "What is this?"
Calithlin Torok points out to the strange glowing object and font, "This is what we call a memory nexus... partial spirits congregate around these crystals, each with links to the Netherworld of the Force... if you can tube into them, one is said to be able to listen to their imparted wisdom..."
Daana Kira remembers the pattern of the carpet, and looks up if there is any glass eyes on the ceiling
Rakiko Lowtide: Very interesting *zooms in wondering if there really are spirits*.
Daana Kira comes closer of the nexus trying to feel some mystical energy from it, even if she isn't force sensitive
Rakiko Lowtide: Have they spoken to the two of you? *looks towards the Sith*.
Darth Umbra nods "many times indeed I have communed with the Spirits, I ...generally do not divulge much past that to anyone other than peers and students within my field"
Rakiko Lowtide nods understanding
Calithlin Torok nods, "They have. Simple bits of advice; wisdom. Sometimes the short statements can speak the greatest volumes... while I can communicate at length with certain spirits, these in particular that are attracted to such devices are... quaint, in their own right."
Rakiko Lowtide looks to Daana "Did you hear anything?"
Daana Kira stares at the shiny crystal-like artifact then she turns to Rakiko as he talks her and shakes her head negatively
Calithlin Torok shrugs lightly, "I suppose you've spooked the spooks." He grins to himself a little. "Come on, let's continue."
Rakiko Lowtide looks up at the dragon statue "How come he has two heads?"
Calithlin Torok: "Here is a statue of a Stih Hydra, an uncommon creature that was really an oddity more than one used for any practical means. Outside are the great horns of Kressh which are said to summon a great storm when used properyly."
Daana Kira look at the two headed reptile statue holding a crystal, she asks "It's the statue of someone it's not just an allegory?"
Calithlin Torok: "it is difficult to date much of the masonry used in this temple; much of it was taken from distant mountains. It could well represent the split of the Empire during the hyperspace war, it is difficult to tell."
Calithlin Torok: "Perhaps it symbolizes the twin-ancestry many Sith shared, that of the Sith species and the very distant Darj Jedi exiles that many Sith had tricking through them, if only slightly."
Daana Kira nods, and still staring at the sculpture, she comments "I can see different factions trying to get a world for themself, are they ally or enemy.. I can't say"
Darth Umbra "it could also represent the dichotomy of the Force itself, or perhaps it represents The Split of the Sith Empire.."
Daana Kira looks at the two sith and asks them "And this work is attributed to a Sith artist?"
Calithlin Torok nods at the guesses, "All excellent suggestions, and indeed it was. All arts created in the Golden Age and prior were done by Sith artists. Perhaps I shall be able to consult the spirit of some long-gone Sith stonemason on the subject."
Daana Kira nods firmly "it's a nice work anyway, whoever made it"
Rakiko Lowtide nods.
Calithlin Torok nods, "Agreed. But let us move on."
Rakiko Lowtide looks around letting a wow escape his lips.
Calithlin Torok: "These were the staging and tactics areas used to plan for the defense of this Vault and that of the planet itself on occasion."
Daana Kira watches the object in the middle "so I think I can say what is it, it's the map of the area?"
Calithlin Torok nods, "The Sith were one of the first to develop accurate, multi-color Holographic technology. Likely piggybacking their technology on Rakatan developments in the field."
Calithlin Torok: "This same unit has been in operation since over five and a half thousand years ago. It was practically still operating when we unearthed this section."
Darth Umbra "Lifetime Warranty's were, obviously, standard"
Calithlin Torok: "As we have built around it, it has catalogued our advances and jus kept on updating itself. Quite the genius programming to keep it up and running, while updating, for so long..."
Rakiko Lowtide: Most impressive, I doubt my equipment will be working after five thousand years.
Calithlin Torok grinned a little, "As I could well imagine from Sith pride, they expected it would never need to be built again."
Daana Kira wags her hand talking a bit nervous as they talk of holograms "yes, people are used too much to the blue monochrome hologram, it's hard to make them change for something better"
Calithlin Torok: "As I understand the technology has been widely known for at least a few centuries, though its implimentation is at least three times more expensive."
Daana Kira acknowledge nodding "... and the industry isn't ready to follow yet"
Calithlin Torok turns to the reporter with the recorder, "Now's the time to shut off the device."
Rakiko Lowtide turns the recorder and holocam off, placing it back against his leg.
Darth Umbra "you'd think after four millenia of it and counting, still, they'd tire of it, nooo, apparently, the entire galaxy's genetics are hardwired to like staticy, blue holograms."
Daana Kira how the sith handle the control of his hologram
Rakiko Lowtide chuckles.
Rakiko Lowtide looks anxious to se what secrets are here.
Calithlin Torok waves a hand for them to come along deeper in.
Daana Kira looks at the marks on the wall, believe they conceal a door due to the difference of dist on the ground, but she doesn't see how to open it
Calithlin Torok looks up, "Your partner coming?"
Calithlin Torok balls his hand into a fist, then reels it back "This is going to be loud"
Calithlin Torok walks up to the stone wall, then presses upon concealed moveable bricks
Rakiko Lowtide: Well it's well hidden.
Daana Kira looks at the doors handling amazed, she tried to recall of the pattern
Calithlin Torok: "You may film this area, if you'd like. This is as far as we go."
Rakiko Lowtide takes out his camera to get a good holofeed of the area then puts his cam back.
Darth Umbra "My Lord ,I shall retire to my chambers to meditate for a time, I must recenter myself for now" she says and heads off
Daana Kira looks around at the patterns on the wall, trying to find a story in the different panels
Rakiko Lowtide: This place is amazing.
Calithlin Torok: "This is the cistern for a large network of sand that is used as a source of power for some of the Vault's inner workings. They also make for a suprisingly good place to train and meditate."
Daana Kira gets closer of a sand cascade and stretches her hand feeling it, she asks "Where is all that sand going?"
Rakiko Lowtide looks at the sand as well. "It's very intiguing".
Calithlin Torok: "I suppose you can make any sort of inquiries you neglected to make earlier. Otherwise I can lead you out if you wish."
Rakiko Lowtide: You said the sand provides power?
Daana Kira nods and adds a question too "Do you know what's the meaning of the patterns on the wall and the ceiling?"
Calithlin Torok: "Yes, the movement of the sand goes down through a massive series of weight distributors and gears that move some of the mechanics of this place, such as the doors and such."
Rakiko Lowtide looks up at each one and along the walls.
Calithlin Torok looks up, "ah, those were in respect to the ancoent Jedi exiles tho returned the Sith peoples to their status as a superpower from after the defeat of their once God-King Adas, after which the Sith were fragmented and divided, buckering in small fiefdoms over power."
Daana Kira looks up at the sculptures trying to understand them under this new sight "hmm... yes..."
Rakiko Lowtide finishes taking in the entire scene "Thank you for answer my questions Tara'ari, I don't have anymore, but Daana may".
Daana Kira nods at Rakiko is he has more question about this room, as he hasn't, she answer "I'm fine, we can continue" while smiling at the sith
Calithlin Torok nods, "Of course. Just be sure to keep your holocam off once you exit this room, until you are outside once more.
Rakiko Lowtide nods.
Calithlin Torok: "Well that's all there is I can show I am afraid. Just empty corridors past here omitting some material that must for the moment remain hidden. If you wish, you can explore the caverns opposite this structure."
Daana Kira rests a bit after having climbed the stairs "Maybe we'll ask to view it later, if our station request we do a reportage in deep on this artifacts... with your authorization first, indeed"
Calithlin Torok: "I believe you can see your ways out from here"
Rakiko Lowtide: Yes and thank you again for your time.
Rakiko Lowtide bows.
Calithlin Torok: "It was my pleasure, I assure you."
Daana Kira neckbows "yes we appreciate, really"
Daana Kira climbs the stairs and looks down if the Taral'ari is following them