Naboo is a planet of the Star Wars universe.
A Second Life region features it.
It was a largely unspoiled world with large plains, swamps and seas. Once ruled by the Royal House Of Naboo that shifted from a true Monarchy to an Elected Monarchy and back to a Monarchy again after Kylanthas reign. The Royal House Of Sia a Naboo royal family inherited several years later returning Naboo to its former Monarch past.
Geographic Features
Species
UNDER CONSTRUCTION
Landscape
UNDER CONSTRUCTION
History
Pre-Human Period
UNDER CONSTRUCTION
Culture
UNDER CONSTRUCTION
Cities
The geographic features of the planet defined the regions of the grass plains in the north, the mountains in the center, and the swamps and bayous in the south.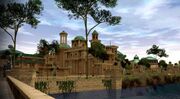 Known Political Figures on Erep
Monarchs