Biography
C-1257 "A'den" was born on Kamino, and ment to be a Clone Soldier for the 724th Infantry. After a few dramatic restructures in GAR, he is still serving under the Flag of A'denla Company.
Early Life and Training
First stationed on Bakura, he received his Training from Sergeant Green, the Epsilon Squad Leader. He then served as Omega Trooper under Sergeant Church.
Corporal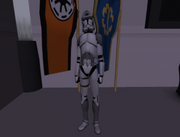 A'den served in nearly every Platoon of the GAR, soon after his Time in the 724th Infantry, he served under ARC Trooper C-5569's 501st on Bakura.
He later transfered to 333rd's Epsilon Squad, being the only Corporal under Sergeant Green for about three months.
Last days as NCO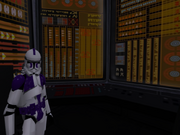 After his last transfer to the 333rd, he ranked up to Sergeant and later Sergeant Major, leading the 333rd's Epsilon Squad.
After reviving the Crewmen and helping his Commanding Officer, J-2301, he received his Promotion to Ensign (Lieutenant) and therefore became Executive Officer of the 333rd.
Latest Assignments
Lieutenant C-1257 "A'den" is now leading the 403rd Platoon after it was reformed following the removal of the 333rd.
Service Record
724th Trooper
501st Corporal
724th Platoon Sergeant
333rd Epsilon Squad Leader
333rd Executive Officer
403rd Commanding Officer
Personality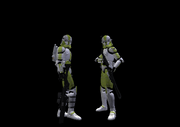 A'den is known to be a rather calm, but productive Officer of the Grand Army of the Republic. Friendship and Brotherhood are the most important things in A'dens eyes. He's also known to speak Mando'a fluently. His Brother, P-5191 is known to be one of his best friends, and most reliable comrades in the Grand Army of the Republic.
Weapons Training
C-1257 was trained using Automatic Rifles, Machine Guns, Sniper Rifles aswell as smaller Sidearms. Since he became an Officer in the Grand Army of the Republic, he's more used to wearing a Sidearm other than Rifles.
Equipment
403rd Armor
Phase II Pilot Armor
HP-26 Sidearm
Rangefinder
Tactical Helmet Light