A'den Mar'eyce, also known as A'den Tr'zch, was born on Mandalore. A'den wandered through the whole Galaxy, being in Tr'zch Aliit, then started Mar'eyce as Alor.
Biography
[
]
Life in Tr'zch
[
]
A'den joined Tr'zch only hours after it was first established. He sticked with the Aliit until it finally broke up. He turned and walked off, knowing he'll have to find another family.
Mar'eyce Aliit
[
]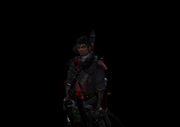 A'den was one of the two founders of Clan Mar'eyce, along with Ke'tol Mar'eyce. The first real "Base" for Mar'eyce was on Dantooine, but after a few Years, the Jedi enclave broke up with Mar'eyce, causing a rather huge fight and finally Mar'eyce being split. Years later, A'den and Ke'tol got together once again, re-establishing Mar'eyce for a second time. The Clan is growing since then.
History
[
]
Tr'zch Alor'ad
Mar'eyce Alor
Missing after Mar'eyce split up
Mar'eyce Alor
Equipment
[
]
Beskar'gam, Rangefinder, Mandalorian Assault Blaster, Jetpack and Heavy Armor Pants